Articles
What a proper offboarding cancelation flow should look like for a SaaS in 2020
How to properly walk users that are canceling through the process (and how to save them).
There is rarely a one-size-fits-all approach to tackling churn. Especially because a company's churn rate is usually determined by a myriad of different factors (customer type, use cases, price point, etc.,).
However, there are a few things that every SaaS company can do to reduce churn. One of those is to build a better offboarding flow.
Every subscription software service has a cancellation process. Companies like Hulu, Netflix, and HelloFresh have spent years trying to perfect their offboarding flows when customers cancel to try to save churn. They understand that even a minuscule change in churn rate can result in major financial implications. For our initial SaaS product in the podcasting space, a 1% reduction in churn earns us $79,000 in revenue over the next 12 months.
As SaaS entrepreneurs, we can learn a lot from these companies to see what works and what doesn't when it comes to trying to deflect churn at the moment of canceling. From our experience building offboarding for two SaaS companies, here is what we learned about building a proper SaaS offboarding experience:
Don't Hide The Cancel Button
It's 2020. Everyone is overloaded with subscriptions. Don't hide the cancel button or force people to contact your support team. Place it clearly on a page in clear view so customers can begin the process if they want to.
This is becoming increasingly important as people begin to care more about privacy online. California even enacted legislation ensuring companies follow this practice. The law states that customers who accept an automatic renewal or continuous service offer online must be able to cancel the service online
If you have a solid offboarding experience, you shouldn't be concerned with users entering it. In fact, you should look at offboarding as a massive opportunity to rekindle relationships with your lapsed customers.
Cancellation Survey: Understand Why They Are Leaving
You can't improve what you don't measure. That is why surveying users on why they are leaving is so important. The goal here is to find reasons that users are leaving that you can take action on, try to improve, or solve for. Here are a few basic survey options that are good to include:
Doesn't fit my budget
The product wasn't working for me
Switching to another product
No longer have a need for the product
Other*
*Providing the option of Other gives users the option to tell you about an issue you may not be aware of. Add a free form text box along with it to collect the qualitative data.
Offer Smart Incentives For Customers to Stay
While a percentage of users that enter the cancellation flow will be un-savable, you shouldn't treat all of them as such. You need to assume there are users that are still on the fence and are looking for a reason to not unsubscribe. This is a good time to remind yourself that even a small reduction in churn can have a massive impact on your long-term growth. Every customer counts.
Using the information provided in the cancellation survey is key to ensuring that you provide the right incentive to encourage the customer to stay subscribed. Every business will be a bit different approach require some testing to figure out the perfect configuration. Here are a few great starting points:
Doesn't fit my budget 👉 Long term discount code
The product wasn't working for me 👉 Free month and get connected with customer support
Switching to another product 👉 Email a discount code for future use
No longer have a need for the product 👉 Offer a subscription pause for multiple months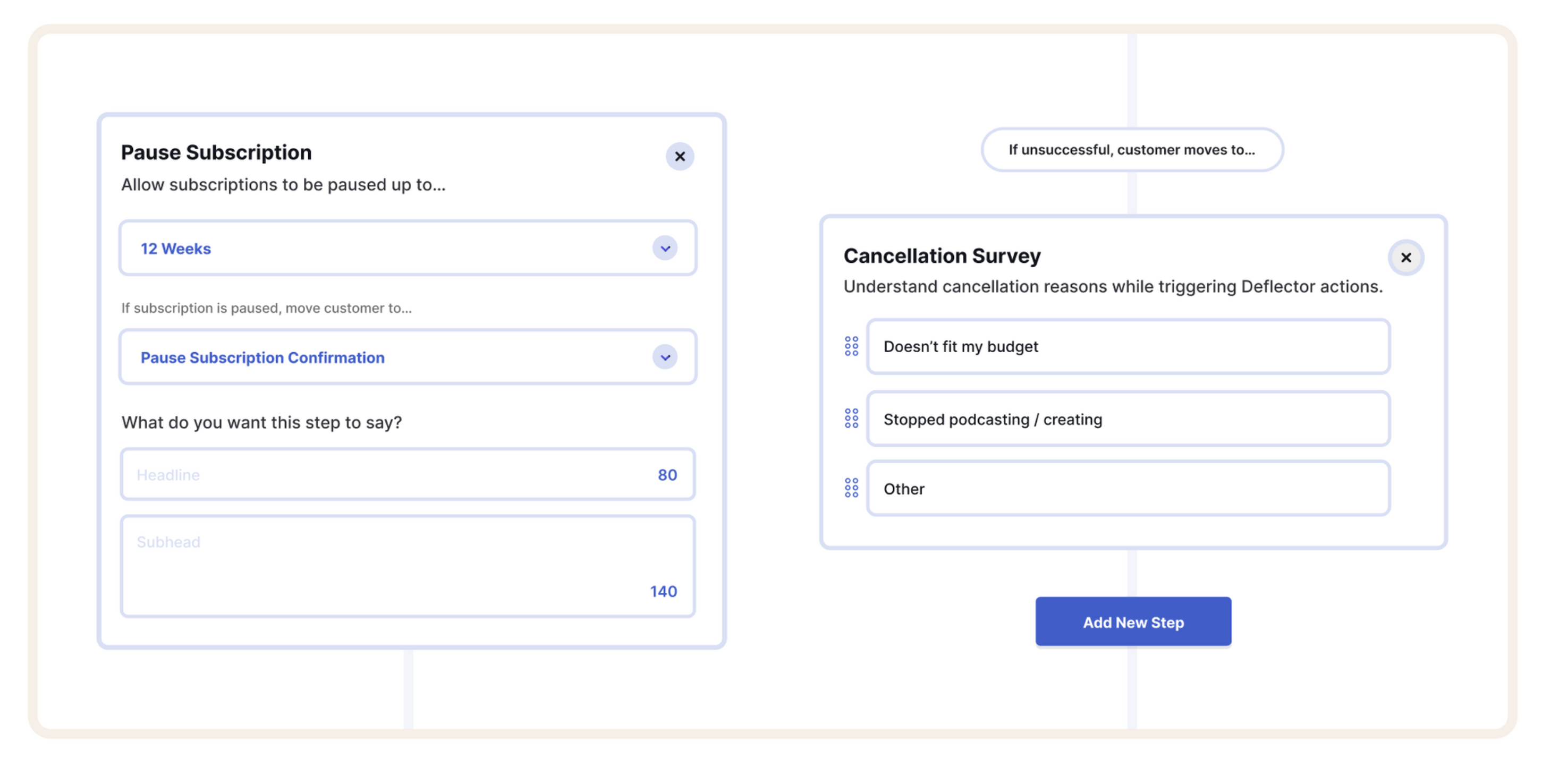 Reporting to Better Understand Churn
All of this information along with the action items needs to be measurable so you can tell what is and what isn't working. As your SaaS business and product evolve over time, it's important to stay on top of how your key cancel/churn metrics are changing over-time. Below is an example of how Churnkey (our cancellation flow offering) prefers to track this data: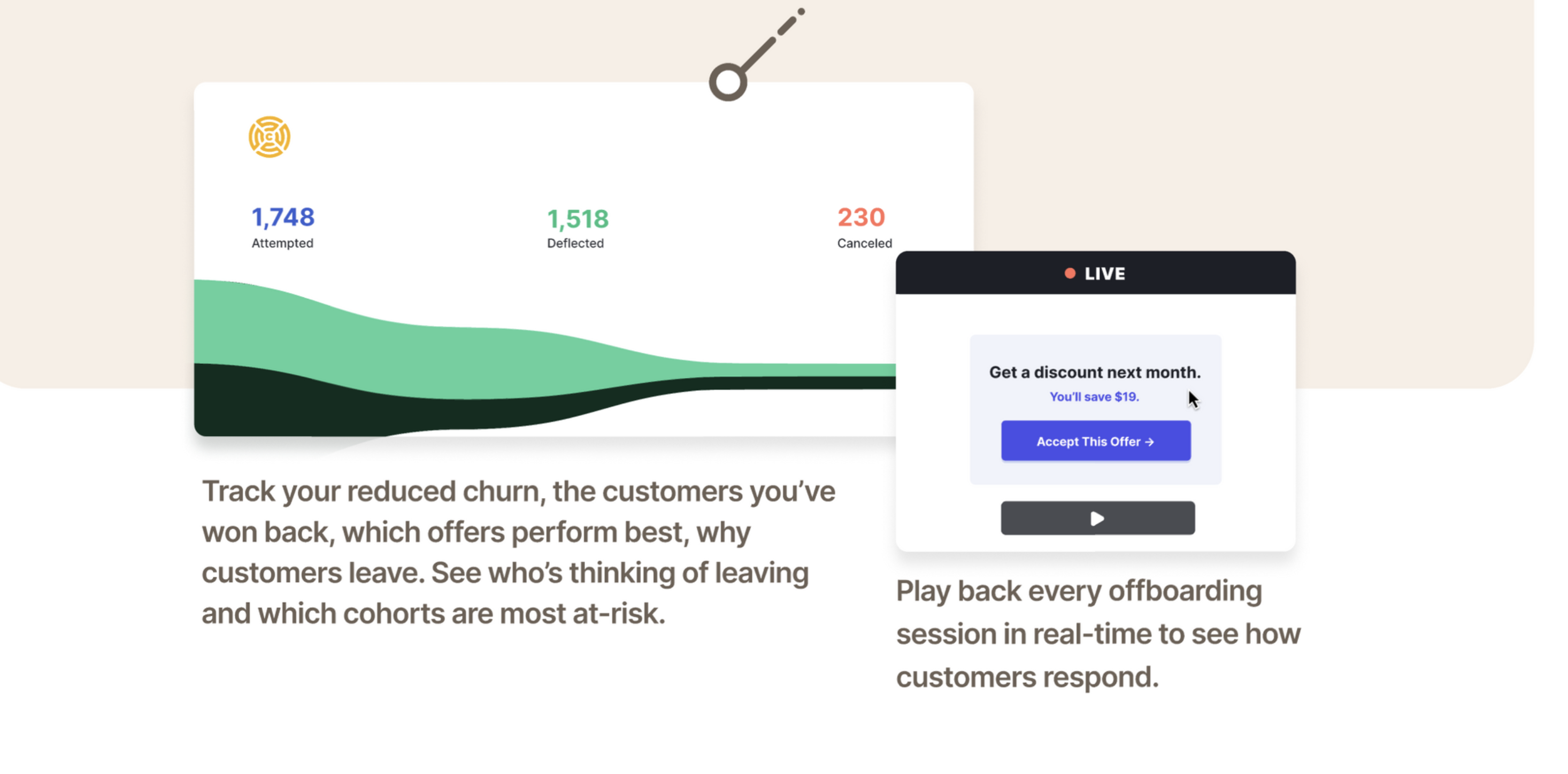 Knowing how many users enter the cancellation flow, how many are deflected and "saved", and how many ultimately cancel is important. Getting a sudden spike in any of these metrics is worth a look. Another element to success here is tracking the incentives shown to canceling users and the effectiveness of each.
How To Take Action
Every SaaS business needs to decide how they are going to manage their offboarding experience. Many decide to handle it internally and apply development resources to building it. We know that this isn't always a great fit for SaaS businesses, so we built Churnkey.
Churnkey takes care of your offboarding flow with one line of code and provides your product stakeholders with a simple dashboard for reporting and configuration. Implementing Churnkey frees up your development resources and provides industrial-grade offboarding experience that is maintained and improved for you.
Our smart cancellation flow can help you reduce churn and grow your SaaS revenue, especially if:
Your current monthly customer churn rate is greater than 5%
You have more than 100 active subscriptions (if you have more than one cancellation a day, Churnkey will almost certainly give your growth ceiling a significant bump)
You use Stripe as a payment provider (support for more payment providers coming soon)
Ready to check out what Churnkey has to offer? Click here to create a free account.